Is good craft matter increasing ingka quality?
Keywords:
application, domestic, entrepreneur, inferior, ingka
Abstract
The purpose of this paper to describe the material on such crafts ingka ingka definition, types ingka, advantages and disadvantages ingka usage, application usage ingka, and the last goal of the use ingka. In addition, I also have a very large goal is to introduce this ingka craft to the crowd that grew ingka users and that child domestic work do not lose competitiveness with foreign products so that local entrepreneurs to develop business in the world market. From my explanation I can conclude that the craft ingka his function was not inferior to foreign products may ingka is superior in its application because it can be used in all activities and more practical in use.
Downloads
Download data is not yet available.
References
Ball, D. L. (1990). With an Eye on the Mathematical Horizon: Dilemmas of Teaching Elementary School Mathematics. Craft Paper 90-3.
Benedict, C., Brooks, S. J., Kullberg, J., Burgos, J., Kempton, M. J., Nordenskjöld, R., ... & Johansson, L. (2012). Impaired insulin sensitivity as indexed by the HOMA score is associated with deficits in verbal fluency and temporal lobe gray matter volume in the elderly. Diabetes care, 35(3), 488-494.
Craft, C. B., Broome, S. W., Seneca, E. D., & Showers, W. J. (1988). Estimating sources of soil organic matter in natural and transplanted estuarine marshes using stable isotopes of carbon and nitrogen. Estuarine, Coastal and Shelf Science, 26(6), 633-641.
Durant, S. M., Craft, M. E., Foley, C., Hampson, K., Lobora, A. L., Msuha, M., ... & Pettorelli, N. (2010). Does size matter? An investigation of habitat use across a carnivore assemblage in the Serengeti, Tanzania. Journal of animal ecology, 79(5), 1012-1022.
Eichholz, G. G., Craft, T. F., & Galli, A. N. (1967). Trace element fractionation by suspended matter in water. Geochimica et Cosmochimica Acta, 31(5), 737-745.
Esposti, R., Fastigi, M., & Viganò, E. (2017). Italian craft beer revolution: do spatial factors matter?. Journal of Small Business and Enterprise Development, 24(3), 503-527.
Hollinshead, K. (2004). A primer in ontological craft: The creative capture of people and places through qualitative research. In Qualitative research in tourism (pp. 81-84). Routledge.
Nordmann, A. (2014). Responsible innovation, the art and craft of anticipation. Journal of Responsible Innovation, 1(1), 87-98.
O Craft, R., M Rebecca, A., Flahive, C., J Casey, W., Dueck, A., & L Harold, K. (2011). Does size matter? Technical considerations of a regenerative tissue matrix for use in reconstructive surgery. Canadian Journal of Plastic Surgery, 19(2), 51-52.
Patchett, M. (2014). Witnessing craft: Employing video ethnography to attend to the more-than-human craft practices of taxidermy. In Video Methods (pp. 81-104). Routledge.
Suarmawan, K. A., Suharsono, N., & Suwena, K. R. (2016). Analisis Faktor-Faktor yang Mempengaruhi Keberhasilan Usaha Mikro dan Kecil (Studi pada Usaha Kerajinan Ingka di Desa Bulian, Kec. Kubutambahan). Jurnal Pendidikan Ekonomi Undiksha, 5(1).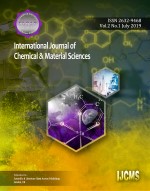 How to Cite
Asmawan, G. P. (2019). Is good craft matter increasing ingka quality?. International Journal of Chemical & Material Sciences, 2(1), 18-23. https://doi.org/10.31295/ijcms.v2n1.84
Copyright & Licensing
Articles published in the International Journal of Chemical & Material Sciences (IJCMS) are available under Creative Commons Attribution Non-Commercial No Derivatives Licence (CC BY-NC-ND 4.0). Authors retain copyright in their work and grant IJCMS right of first publication under CC BY-NC-ND 4.0. Users have the right to read, download, copy, distribute, print, search, or link to the full texts of articles in this journal, and to use them for any other lawful purpose.
Articles published in IJCMS can be copied, communicated and shared in their published form for non-commercial purposes provided full attribution is given to the author and the journal. Authors are able to enter into separate, additional contractual arrangements for the non-exclusive distribution of the journal's published version of the work (e.g., post it to an institutional repository or publish it in a book), with an acknowledgment of its initial publication in this journal.