English and uzbek toponymic phraseological units: Linguocultural and historical aspects
Abstract
The present paper is devoted to investigation of English and Uzbek phraseological units which contain place names in their structure. An attempt is made to find out the sources of origin as well as to analyze them from linguocultural point of view. Toponymic phraseological units in both languages are classified into five main groups according to the emergence sources and particular attention is given to the historically associated phraseological units. Here the phraseological units that are based on the exact historical events and facts are discovered and explained. The author proposes two major groups of phraseological units concerning the existence of real place names in their structure. There are also revealed properties of real toponyms that stimulated the connection in the meaning of a proper name and a phraseological unit. Additional connotation of toponyms which influenced on the meaning of phraseological units are also discovered. The examples are taken from several  English and Uzbek phraseological and paremiological dictionaries. The examples are analyzed by descriptive and comparative methods. Similarities and differences are found out due to national-cultural specifics of both languages.
Downloads
Download data is not yet available.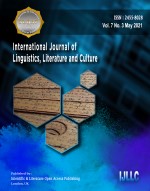 How to Cite
Xudoyorova, S. (2021). English and uzbek toponymic phraseological units: Linguocultural and historical aspects. International Journal of Linguistics, Literature and Culture, 7(3). Retrieved from https://sloap.org/journals/index.php/ijllc/article/view/1426
Section
Research Articles
Copyright & Licensing
Copyright (c) 2021 International journal of linguistics, literature and culture
This work is licensed under a Creative Commons Attribution-NonCommercial-NoDerivatives 4.0 International License.
Articles published in the International Journal of Linguistics, Literature and Culture (IJLLC) are available under Creative Commons Attribution Non-Commercial No Derivatives Licence (CC BY-NC-ND 4.0). Authors retain copyright in their work and grant IJLLC right of first publication under CC BY-NC-ND 4.0. Users have the right to read, download, copy, distribute, print, search, or link to the full texts of articles in this journal, and to use them for any other lawful purpose.
Articles published in IJLLC can be copied, communicated and shared in their published form for non-commercial purposes provided full attribution is given to the author and the journal. Authors are able to enter into separate, additional contractual arrangements for the non-exclusive distribution of the journal's published version of the work (e.g., post it to an institutional repository or publish it in a book), with an acknowledgment of its initial publication in this journal.
This copyright notice applies to articles published in IJLLC volumes 6 onwards. Please read about the copyright notices for previous volumes under Journal History.