Semantic deviation in Arabic and English proverbs of love
Keywords:
cultural wisdom, didactic function , idiomatic expressions , proverbs , semantic deviation
Abstract
Proverbs are a type of idiomatic expressions that are commonly used in everyday spoken language. They concisely and figuratively summarize everyday experiences and common observations (Borowska, 2014). The proverbs of love often contain various stylistic features that are worthy of analysis. The present paper hypothesizes that semantic deviations in the Arabic and English proverbs of love facilitate pleasurable and enjoyable delivery of the didactic messages conveyed by these proverbs and maximize their persuasive effects. Semantic deviations (such as simile, metaphor, metonymy and synecdoche) represent an important type of stylistic deviation in proverbs because of their figurative features and aesthetic values. Such stylistic devices make the content of these proverbs more appealing the audience and maximize the persuasive effect of their contents. This study examined 50 proverbs of love (25 in each language) from stylistic perspective, based on the semantic deviation model developed by Leech (1969). The analysis showed that the extensive use of various types of semantic deviations maximize the persuasive effects, and eventually efficient transmission of cultural wisdom. Additionally, such deviations were found to reinforce and facilitates the pleasurable delivery of the didactic function of proverbs.
Downloads
Download data is not yet available.
References
Agyekum, K. (2021). Proverbs in Akan highlife lyrics: A case study of Alex Konadu's lyrics. Journal of Pragmatics, 174, 1-13. https://doi.org/10.1016/j.pragma.2020.12.016
Aquilina, M. (2014). The Event of Style in Literature. UK: Palgrave Macmillan.
Baldick, C. (2001). The Concise Oxford Dictionary of Literary Terms. Published in the United States by Oxford University Press Inc., New York.
Borowska, A. (2014). Introduction to Paremiology: A Comprehensive Guide to Proverb Studies. Published by De Gruyter Open Ltd, Warsaw/Berlin.
Burke, M. (Ed.) The Routledge Handbook of Stylistics. London: Routledge.
Cruse, A. (2006). A Glossary of Semantics and Pragmatics. Edinburgh University Press.
Crystal, D. (2008). A Dictionary of Linguistics and Phonetics. Oxford: Basil Blackwell. Sixth Edition.
Enkvist, N. E. (1985). Text and Discourse Linguistics, Rhetoric and Stylistics. In Van Dijk, T.(ed.). Discourse and Literature. Amsterdam: John Benjamins.
Groussard, M., Viader, F., Hubert, V., Landeau, B., Abbas, A., Desgranges, B., ... & Platel, H. (2010). Musical and verbal semantic memory: two distinct neural networks?. Neuroimage, 49(3), 2764-2773. https://doi.org/10.1016/j.neuroimage.2009.10.039
Honeck, R. P. (1973). Interpretive versus structural effects on semantic memory. Journal of Verbal Learning and Verbal Behavior, 12(4), 448-455. https://doi.org/10.1016/S0022-5371(73)80025-8
Karagiorgos, P. (1999). Greek and English Proverbs. Cambridge Scholars Publishing.
Lawal, A., Ajayi, B., & Raji, W. (1997). A pragmatic study of selected pairs of Yoruba proverbs. Journal of pragmatics, 27(5), 635-652. https://doi.org/10.1016/S0378-2166(96)00056-2
Leech, G. (1969). A Linguistic Guide to English Poetry. London: Longmans.
Li, X., & Shi, M. (2015). A Stylistic Study on the Linguistic Deviations in E. E. Cummings' Poetry. Shanghai International Studies University, China.
Menninghaus, W., Bohrn, I. C., Knoop, C. A., Kotz, S. A., Schlotz, W., & Jacobs, A. M. (2015). Rhetorical features facilitate prosodic processing while handicapping ease of semantic comprehension. Cognition, 143, 48-60. https://doi.org/10.1016/j.cognition.2015.05.026
Norrick, N. R. (1985). How Proverbs Mean: Semantic Studies in English Proverbs. Mouton Publishers Berlin. New york. Amsterdam. Kassel University.
Plett, H. F. (2010). Literary Rhetoric Concepts-Structures-Analyses. Leiden, Boston: Brill.
Prafitri, W., & Suhatmady, B. (2014). Semantic Deviation on William Blake`s Selected Poems. Universitas Mulawarman.
Stockwell, P., & Whiteley, S. (2014). The Cambridge Handbook of Stylistics. University of Nottingham and University of Sheffield. University Printing House, Cambridge CB2 8BS, United Kingdom.
Widayanti, S. R. (2014). A Stylistic Study of Language Deviation in Thomas Hardy Poem. Universitas Widya Dharma Klaten.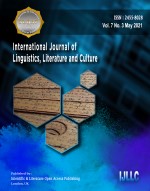 How to Cite
Hashem, Z. A., & Muhi, T. H. (2021). Semantic deviation in Arabic and English proverbs of love. International Journal of Linguistics, Literature and Culture, 7(3), 130-138. https://doi.org/10.21744/ijllc.v7n3.1486
Section
Research Articles
Copyright & Licensing
Copyright (c) 2021 International journal of linguistics, literature and culture
This work is licensed under a Creative Commons Attribution-NonCommercial-NoDerivatives 4.0 International License.
Articles published in the International Journal of Linguistics, Literature and Culture (IJLLC) are available under Creative Commons Attribution Non-Commercial No Derivatives Licence (CC BY-NC-ND 4.0). Authors retain copyright in their work and grant IJLLC right of first publication under CC BY-NC-ND 4.0. Users have the right to read, download, copy, distribute, print, search, or link to the full texts of articles in this journal, and to use them for any other lawful purpose.
Articles published in IJLLC can be copied, communicated and shared in their published form for non-commercial purposes provided full attribution is given to the author and the journal. Authors are able to enter into separate, additional contractual arrangements for the non-exclusive distribution of the journal's published version of the work (e.g., post it to an institutional repository or publish it in a book), with an acknowledgment of its initial publication in this journal.
This copyright notice applies to articles published in IJLLC volumes 6 onwards. Please read about the copyright notices for previous volumes under Journal History.