Neo nolin "genre" new music
Keywords:
neo nolin, genre, new music
Abstract
The development of Mandolin music today is experiencing very rapid development. We can see this in the presence of various artistic creativities that are present in the midst of society. The presence of artistic creativity is due to the opening of wide creative spaces for the younger generation who love traditional music. Various types of new repertoires have appeared to color the development of Mandolin music today as a result of this freedom of space to create the repertoire work and the musical instruments. This has resulted in the emergence of many new musical genres in the community. The main problems discussed in this study include: What is the form of renewal carried out in Mandolin music? What are instrument development, repertoire, and presentation system? This research aims to identify, describe, and analyze the form of Mandolin music from classical to its development. Data were analyzed using interpretive qualitative methods, and the results of the analysis were presented informally in narrative form. The results of this study indicate that Neo Nolin is a renewal of the existing Mandooin music, reconstructed to present a new atmosphere, form, and presentation system that is more aesthetically attractive.
Downloads
Download data is not yet available.
References
Amezquita-Sanchez, J. P., & Adeli, H. (2015). A new music-empirical wavelet transform methodology for time–frequency analysis of noisy nonlinear and non-stationary signals. Digital Signal Processing, 45, 55-68. https://doi.org/10.1016/j.dsp.2015.06.013
Celma, Ò., & Serra, X. (2008). FOAFing the music: Bridging the semantic gap in music recommendation. Journal of Web Semantics, 6(4), 250-256. https://doi.org/10.1016/j.websem.2008.09.004
Kayam, U. (1981). Art, Tradition, Society, Jakarta: Sinar Harapan.
Koentjaraningrat. (1987). Anthropology in Indonesia. Journal of Southeast Asian Studies, 217-234.
Kusumohamidjojo, B. (2010). Cultural Philosophy of Human Realization Process. Yogyakarta: Jalasutra, 2009.
Lathief, L. (1986). Performing an Introduction, Yogyakarta: Lagali.
Mawan, I G. (2015). "The Aesthetic Dynamics of Mandolin Music in the Era of Globalization". In the Mudra Journal, 29(1), 75-90.
Nurbawa, I. N. R. A. (2020). "Neo Nolin". (Thesis). Postgraduate Program at the Indonesian Institute of the Arts Denpasar.
Shen, Y., & Gadir, O. (2009). How to interpret the music of caressing: Target and source assignment in synaesthetic genitive constructions. Journal of Pragmatics, 41(2), 357-371. https://doi.org/10.1016/j.pragma.2008.08.002
Sutoo, D. E., & Akiyama, K. (2004). Music improves dopaminergic neurotransmission: demonstration based on the effect of music on blood pressure regulation. Brain research, 1016(2), 255-262. https://doi.org/10.1016/j.brainres.2004.05.018
Thaut, M. H. (2015). The discovery of human auditory–motor entrainment and its role in the development of neurologic music therapy. Progress in brain research, 217, 253-266. https://doi.org/10.1016/bs.pbr.2014.11.030
Waldfogel, J. (2014). Digitization, copyright, and the flow of new music products. Handbook of the Economics of Art and Culture, 2, 277-297. https://doi.org/10.1016/B978-0-444-53776-8.00012-X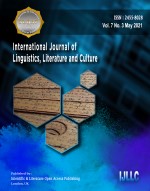 How to Cite
Mawan, I. G. (2021). Neo nolin "genre" new music. International Journal of Linguistics, Literature and Culture, 7(3), 163-171. https://doi.org/10.21744/ijllc.v7n3.1569
Section
Research Articles
Copyright & Licensing
Copyright (c) 2021 International journal of linguistics, literature and culture
This work is licensed under a Creative Commons Attribution-NonCommercial-NoDerivatives 4.0 International License.
Articles published in the International Journal of Linguistics, Literature and Culture (IJLLC) are available under Creative Commons Attribution Non-Commercial No Derivatives Licence (CC BY-NC-ND 4.0). Authors retain copyright in their work and grant IJLLC right of first publication under CC BY-NC-ND 4.0. Users have the right to read, download, copy, distribute, print, search, or link to the full texts of articles in this journal, and to use them for any other lawful purpose.
Articles published in IJLLC can be copied, communicated and shared in their published form for non-commercial purposes provided full attribution is given to the author and the journal. Authors are able to enter into separate, additional contractual arrangements for the non-exclusive distribution of the journal's published version of the work (e.g., post it to an institutional repository or publish it in a book), with an acknowledgment of its initial publication in this journal.
This copyright notice applies to articles published in IJLLC volumes 6 onwards. Please read about the copyright notices for previous volumes under Journal History.