Pekatik in gambuh dramatic show
Keywords:
gambuh, horse keeper, pekatik, servant
Abstract
A dramatic performance that presents a play will be found by several figures according to their social status, which is a reflection of people's lives that are staged on the stage. Gambuh, for example, as the mother of the Balinese drama that appeared afterward and has developed from the Ancient Bali era, Classical Bali to the present, there are at least several strata of characters that appear, one of which is the Pekatik actor. This servant character only appears according to the needs of the storyline being presented, has the character of being innocent, funny, and antawacana using Balinese. Now, in some Gambuh performances, the Pekatik character is very rare because after the 1990s this role was replaced by the Semar character. This study is very important as a source of written data that will be used as reference material for future researchers. This research uses qualitative methods, as well as data collection using literature review techniques, documentation, and interviews.
Downloads
Download data is not yet available.
References
Bandem, I. M. (1996). Etnologi Tari Bali. Penerbit Kanisius.
Bastomi, S. (1992). Wawasan Seni. IKIP Semarang Press.
Brysse, K., Oreskes, N., O'Reilly, J., & Oppenheimer, M. (2013). Climate change prediction: Erring on the side of least drama?. Global environmental change, 23(1), 327-337. https://doi.org/10.1016/j.gloenvcha.2012.10.008
Budiarsa, I. W. (2020). Penciptaan Karya Seni Tari Baris Gede Gentorag. Kalangwan: Jurnal Seni Pertunjukan, 6(2), 84-94.
Demircio?lu, ?. (2010). Teaching English vocabulary to young learners via drama. Procedia-Social and Behavioral Sciences, 2(2), 439-443. https://doi.org/10.1016/j.sbspro.2010.03.039
Dibia, I. W. (2013). Puspasari Seni Tari Bali. Institut Seni Indonesia Denpasar, UPT Penerbitan.
Formaggia, M. C. (2000). Gambuh: Tinjauan seni, makna emosional dan mistik, kata-kata dan teks, musik gambuh Desa Batuan dan Desa Pedungan (Vol. 1). Yayasan Lontar.
Harris, D., & Willoughby, H. (2009). Resuscitation on television: realistic or ridiculous? A quantitative observational analysis of the portrayal of cardiopulmonary resuscitation in television medical drama. Resuscitation, 80(11), 1275-1279. https://doi.org/10.1016/j.resuscitation.2009.07.008
Hui, A., & Lau, S. (2006). Drama education: A touch of the creative mind and communicative-expressive ability of elementary school children in Hong Kong. Thinking skills and creativity, 1(1), 34-40. https://doi.org/10.1016/j.tsc.2005.06.001
Karakelle, S. (2009). Enhancing fluent and flexible thinking through the creative drama process. Thinking Skills and Creativity, 4(2), 124-129. https://doi.org/10.1016/j.tsc.2009.05.002
Sedyawati, E. (1981). Pertumbuhan seni pertunjukan (No. 4). Penerbit Sinar Harapan.
Vickers, A. (2009). Peradaban Pesisir Menuju Sejarah Budaya Asia Tenggara. Denpasar: Pustaka Larasan.
Zillmann, D. (1995). Mechanisms of emotional involvement with drama. Poetics, 23(1-2), 33-51. https://doi.org/10.1016/0304-422X(94)00020-7
Zurbuchen, M. S. (1982). The shadow theater of Bali: explorations in language and text.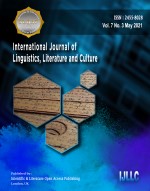 How to Cite
Budiarsa, I. W. (2021). Pekatik in gambuh dramatic show. International Journal of Linguistics, Literature and Culture, 7(3), 172-179. https://doi.org/10.21744/ijllc.v7n3.1589
Section
Research Articles
Copyright & Licensing
Copyright (c) 2021 International journal of linguistics, literature and culture
This work is licensed under a Creative Commons Attribution-NonCommercial-NoDerivatives 4.0 International License.
Articles published in the International Journal of Linguistics, Literature and Culture (IJLLC) are available under Creative Commons Attribution Non-Commercial No Derivatives Licence (CC BY-NC-ND 4.0). Authors retain copyright in their work and grant IJLLC right of first publication under CC BY-NC-ND 4.0. Users have the right to read, download, copy, distribute, print, search, or link to the full texts of articles in this journal, and to use them for any other lawful purpose.
Articles published in IJLLC can be copied, communicated and shared in their published form for non-commercial purposes provided full attribution is given to the author and the journal. Authors are able to enter into separate, additional contractual arrangements for the non-exclusive distribution of the journal's published version of the work (e.g., post it to an institutional repository or publish it in a book), with an acknowledgment of its initial publication in this journal.
This copyright notice applies to articles published in IJLLC volumes 6 onwards. Please read about the copyright notices for previous volumes under Journal History.