Social and cultural shifts on art worker community towards current globalization
I Nengah Merta

Wira Bhakti Denpasar College, Denpasar, Indonesia
Keywords:
art, cultural shift, globalization, social, workers
Abstract
The purpose of this study is to find out and describe the social and cultural shifts of the art worker community due to the current of globalization in the Junjungan village of Ubud, Bali. Advances in technology and information are very fast causing all components of life to experience a shift both social and cultural Junjungan Ubud people began to experience a very drastic shift along with changes in human civilization at this time. This study uses a qualitative descriptive method, using proportional sampling techniques consisting of arts workers and the community who work in the tourism sector in the village of Junjungan Ubud, Bali. The social and cultural shift of the people of Junjungan Ubud Village in Bali is inseparable from the embryo of globalization that is felt in all sectors of people's lives. Globalization is the spread of certain values ​​and cultures throughout the world. Globalization which makes the world smaller is seen in terms of human interaction due to the development of technological science, art and information holistically. Things that need to be improved gradually and consistently in the form of human resource management through competitive vocational education with other ASEAN friendly countries.
Downloads
Download data is not yet available.
References
Abeng, T. (1997). Business ethics in Islamic context: Perspectives of a Muslim business leader. Business Ethics Quarterly, 7(3), 47-54.
Aditya, A. G. D., & Kusuma, M. G. W. (2019). The effect of tri hita karana culture in relationship between work stress and internal auditor performance. International Research Journal of Management, IT and Social Sciences, 6(2), 72-78. https://doi.org/10.21744/irjmis.v6n2.610
Aini, Z. (2017). The actualization of cultural elements in novel Guru Onyeh by Salman Faris. International Journal of Social Sciences and Humanities, 1(3), 17-27. https://doi.org/10.29332/ijssh.v1n3.49
Fitriani, N. (2017). Perubahan sosial budaya masyarakat: studi kasus industri sepatu dan sandal di kampung Sindang Barang, Desa Pasir Eurih, Kecamatan Taman Sari, Kabupaten Bogor.
Horton, P. B., Leslie, G. R., & Larson, R. F. (1991). The sociology of social problems. Pearson College Division.
Jain, P., Billaiya, R., & Malaiya, S. (2017). A correlational analysis of academic stress in adolescents in respect of socio-economic status. International Journal of Physical Sciences and Engineering, 1(1), 68-71. https://doi.org/10.21744/ijpse.v1i1.14
Koentjaraningrat. (1961). Some Social-anthropological Observations on" gotong Rojong" Practices in Two Villages of Central Java. Cornell univ..
Lindayani, L. R., Masri, F. A., Idul, R., & Sawali, L. (2018). A metaphorical analysis of Kabhanti Modero to show Munanese social relations. International Journal of Linguistics, Literature and Culture, 4(2), 72-80.
Qomarudin, A. (2010). Correlation between extraversion personality and english writing skill (Doctoral dissertation, University of Diponegoro).
Ward, D., & Taetle, R. (2013). Barbara Newton, Margaret Breslin, Michael Mullen. Platinum and Other Metal Coordination Compounds in Cancer Chemotherapy, 433.
Warsono King, D. J., Ozveren, C. S., & Bradley, D. A. (2007). Economic load dispatch optimization of renewable energy in power system using genetic algorithm. IEEE Proc. Power Tech. Lausanne, 1, 2174-2179.
Wirawan, I. W. A. (2018). Maintaining social relationship of Balinese and Sasak ethnic community. International Journal of Social Sciences and Humanities, 2(1), 92-104. https://doi.org/10.29332/ijssh.v2n1.96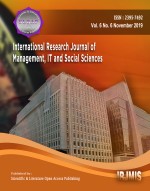 How to Cite
Merta, I. N. (2019). Social and cultural shifts on art worker community towards current globalization. International Research Journal of Management, IT and Social Sciences, 6(6), 29-36. https://doi.org/10.21744/irjmis.v6n6.746
Section
Research Articles
Articles published in the International Research Journal of Management, IT and Social sciences (IRJMIS) are available under Creative Commons Attribution Non-Commercial No Derivatives Licence (CC BY-NC-ND 4.0). Authors retain copyright in their work and grant IRJMIS right of first publication under CC BY-NC-ND 4.0. Users have the right to read, download, copy, distribute, print, search, or link to the full texts of articles in this journal, and to use them for any other lawful purpose.
Articles published in IRJMIS can be copied, communicated and shared in their published form for non-commercial purposes provided full attribution is given to the author and the journal. Authors are able to enter into separate, additional contractual arrangements for the non-exclusive distribution of the journal's published version of the work (e.g., post it to an institutional repository or publish it in a book), with an acknowledgment of its initial publication in this journal.
This copyright notice applies to articles published in IRJMIS volumes 7 onwards. Please read about the copyright notices for previous volumes under Journal History.