Psychological actions for tactical thinking development on solving tasks in school volleyball
Yanelis Quesada Hidalgo

Center of Sports Medicine of Camagüey, Camaguey, Cuba

José Ignacio Ruiz Sánchez

Universidad Ignacio Agramante Loynaz, Camaguey, Cuba

Taimí Wambrug Callejas

Universidad Ignacio Agramante Loynaz, Camaguey, Cuba

Hilda Rosa Rabilero Sabates

Universidad de Oriente, Santiago de Cuba, Cuba
Keywords:
homework solution, psychological intervention, school volleyball, tactical thinking, training and competition
Abstract
The research aimed to design a proposal for psychological intervention actions that enable the development of tactical thinking in the solution of training and competition tasks, in school volleyball players of the EIDE "Cerro Pelado" of Camaguey For this purpose, it was based on the diagnosis of the individual features of consecutive thinking, flexibility, and speed, as well as the analysis of the decision-making process, in which the analysis and perception of the current defensive tactical game situation are related, with similar previous experiences to adopt the most appropriate solution, in athletes.
Downloads
Download data is not yet available.
References
Cañizares M. (2009). Psychology in physical activity. Its application in sports, physical education, recreation and rehabilitation. Havana City: Editorial Sports.
Del Monte, L. M. (1998). Mimeographed lecture "A look at judokas from the psychological point of view". Retrieved on June 25, 2014 from Judo Website, INDER, Havana.
Del Monte, U. (2005). Swelling of hepatocytes injured by oxidative stress suggests pathological changes related to macromolecular crowding. Medical hypotheses, 64(4), 818-825. https://doi.org/10.1016/j.mehy.2004.08.028
González, A. (2003). Attention and Sports Performance. EduPsyKhé. Journal of Psychology and Psychopedagogy, 2 (2). http://wwwdialnet.unirioja.es
Iglesias, D. (2002) A model for the analysis of cognitive processes involved in decision making in collective sports. Sports Training Magazine
Iglesias, D. (2003) Knowledge and decision making in team sports: a review from the cognitive perspective. Sports Training Magazine.
Locke, E. A., & Latham, G. P. (1985). The application of goal setting to sports. Journal of Sport and Exercise Psychology, 7(3), 205-222. https://doi.org/10.1123/jsp.7.3.205
Navelo, R. (2001). Alternative didactic model for the technical-tactical preparation of young volleyball players (Doctoral dissertation, PhD thesis) Higher Institute of Physical Culture "Manuel Fajardo", Havana, Cuba).
Rodionov, P. P., & Furin, G. G. (1990). Kinetics of nucleophilic substitution reactions of polyfluoroaromatic compounds. Journal of fluorine chemistry, 47(3), 361-434. https://doi.org/10.1016/S0022-1139(00)82395-7
Sainz de la Torre, N. (2010). Psicopedagogía de la Educación Física y el deporte escolar. Deportes.
Sáinz, M., & López-Sáez, M. (2010). Gender differences in computer attitudes and the choice of technology-related occupations in a sample of secondary students in Spain. Computers & Education, 54(2), 578-587. https://doi.org/10.1016/j.compedu.2009.09.007
Sánchez, M. E. & González, M. (2005). General and developmental psychology. Havana: Editorial Sports.
Sánchez, M. E. (2005). Training psychology and sports competition. Havana: Editorial Deportes
Sarmiento, T. (2011). Program of psychological intervention for the training of the focus of attention in athletes of the Venezuelan selection of feminine artistic gymnastics. Master's Thesis. Caracas: UCCFD "Manuel Fajardo
Singh, A., & Parmar, D. S. (2016). A comparative study of psychological factor among female athletes. International Research Journal of Engineering, IT & Scientific Research, 2(1), 8-21.
Soler, Y. (2016). Development ofthinking in theinitiation11.
Temprado, J. J. (1991). Les apprentissages décisionnels en EPS. L'apprentissage moteur. Rôle des représentations, 131-155.
Weinberg, D. H., Mortonson, M. J., Eisenstein, D. J., Hirata, C., Riess, A. G., & Rozo, E. (2013). Observational probes of cosmic acceleration. Physics reports, 530(2), 87-255. https://doi.org/10.1016/j.physrep.2013.05.001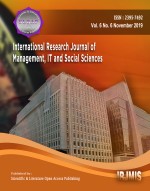 How to Cite
Hidalgo, Y. Q., Sánchez, J. I. R., Callejas, T. W., & Sabates, H. R. R. (2019). Psychological actions for tactical thinking development on solving tasks in school volleyball. International Research Journal of Management, IT and Social Sciences, 6(6), 128-134. https://doi.org/10.21744/irjmis.v6n6.784
Section
Research Articles
Articles published in the International Research Journal of Management, IT and Social sciences (IRJMIS) are available under Creative Commons Attribution Non-Commercial No Derivatives Licence (CC BY-NC-ND 4.0). Authors retain copyright in their work and grant IRJMIS right of first publication under CC BY-NC-ND 4.0. Users have the right to read, download, copy, distribute, print, search, or link to the full texts of articles in this journal, and to use them for any other lawful purpose.
Articles published in IRJMIS can be copied, communicated and shared in their published form for non-commercial purposes provided full attribution is given to the author and the journal. Authors are able to enter into separate, additional contractual arrangements for the non-exclusive distribution of the journal's published version of the work (e.g., post it to an institutional repository or publish it in a book), with an acknowledgment of its initial publication in this journal.
This copyright notice applies to articles published in IRJMIS volumes 7 onwards. Please read about the copyright notices for previous volumes under Journal History.