Effect of training and compensation of employee performance medicated by job satisfaction
Komang Richa Diah Diliantari

Udayana University, Denpasar, Indonesia

I Gst. A. Manuati Dewi

Udayana University, Denpasar, Indonesia
Keywords:
compensation, employee, job satisfaction, performance, training
Abstract
The purpose of this study was to determine the impact of training and compensation on employee performance through employee job satisfaction by using 125 respondents as a basis for research analysis. The results showed that training and compensation had a significant positive effect on employee performance and job satisfaction is known to mediate the relationship of training on employee performance and compensation on employee performance at Belmond hotel partially. The findings in this study provide the implication that to improve employee performance in order to achieve the company's expected targets, the things that need to be considered in terms of job satisfaction with performance is the way employees can see opportunities and rewards, the nature of the job itself, supervision or supervisor, benefits, operational conditions of employees, and coworkers as a positive incentive to work. Improvements in knowledge and skills relevant to the work in each department as well as experienced in the training also need to be considered. Increasing compensation for salaries, benefits and incentives can increase their understanding of satisfaction with work results achieved by an employee.
Downloads
Download data is not yet available.
References
Adegbite, S. A., Ilori, M. O., Irefin, I. A., Abereijo, I. O., & Aderemi, H. O. S. (2007). Evaluation of the impact of entrepreneurial characteristics on the performance of small scale manufacturing industries in Nigeria. Journal of Asia Entrepreneurship and Sustainability, 3(1), 1.
Alawiyat. (2010). Training As Motivational Tool For The Employees. Journal of Business Management. 3(2), 52-59.
Bakar, A. (2011). The Relationship between Training and Organizational Performance through Job Satisfaction. Bonfring International Journal of Industrial Engineering and Management Science, 1(1), 20-27.
Baledi, M., & Saed, 2017. The Impact Of Compensation On Improving Employees Performance Through Job Satisfaction In Jordanian Newspaper. International journal of business quantitative economic and applied management research. 4(5), 88-110.
Demiral, Ö. (2017). Effects of training on employee job satisfaction and achievement:'train to gain'evidence from manufacturing businesses in turkey. Business & Management Studies: An International Journal, 5(3), 765-785. https://doi.org/10.15295/bmij.v5i3.157
Emeti, C. I. (2015). The effects of training/development on the performance of paint manufacturing firms in Rivers State. European Journal of Business and Social Sciences, 4(3), 66-74.
Govand, A., & Inji, S., 2015. The Impact of Training and Development on Job Satisfaction: A Case Study of Private Banks in Erbil. International Journal of Social Sciences & Educational Studies. 2(1), 24-33.
Hair, J. F., Ringle, C. M., & Sarstedt, M. (2013). Partial least squares structural equation modeling: Rigorous applications, better results and higher acceptance. Long range planning, 46(1-2), 1-12.
Kgoedi, T., & Pillay, A. S. (2018). The impact of compensation on the performance of employees at a bank in Mpumalanga. Journal of Management & Administration, 2018(2), 135-162.
Khaliq, R.. Fahad, K. A., & Syed, I. K. (2017). Impact of Training on Employees Performance and Job Satisfaction: An Empirical Study of Plastic Industry of Hayatabad Industrial Estate. Journal of Business and Tourism. 3(1), 20-25.
Khan, M. A., Md Yusoff, R., Hussain, A., & Binti Ismail, F. (2019). The Mediating Effect of Job Satisfaction on the Relationship of HR Practices and Employee Job Performance: Empirical Evidence from Higher Education Sector. International Journal of Organizational Leadership, 8, 78-94.
Na-nan, K., Chaiprasit, K., & Pukkeeree, P. (2017). Influences of workplace environment factors on employees' training transfer. Industrial and Commercial Training, 49(6), 303-314. https://doi.org/10.1108/ICT-02-2017-0010
Nzyoka, C. M., & Orwa, B. H. (2016). The relationship between Total compensation and employee performance in the insurance industry, case of Mayfair insurance company limited. Psychology and Behavioral Sciences, 5(1), 20. https://doi.org/10.11648/j.pbs.20160501.14
Okwudili, B. E. (2016). Contemporary Issues In Human Resource Management, Phd Class Note. Michael Okpara University Of Agriculture, Umudike, Abia State, Nigeria. Journal Of Business And Management (IOSR-JBM). 17(2). 2(3), 60-70.
Okwudili, B. E., & Edeh, F. O. (2017). The Effect Of Compensation On Employee Performance In Nigeria Civil Service: A Study Of Rivers State Board Of Internal Revenue Service. Journal of Strategic Human Resource Management. 6(2), 7-18.
Osibanjo, A. O., Adeniji, A. A., Falola, H. O., & Heirsmac, P. T. (2014). Compensation packages: a strategic tool for employees' performance and retention. Leonardo Journal of Sciences, (25), 65-84.
Pepra-Mensah, J., Adjei, L. N., & Agyei, A. (2017). Effect of compensation on basic school teachers' job satisfaction in the northern zone: The case of Ghana. Global Journal of Management And Business Research.
Putri, K. D. C., Sari, M. M. R., Ramantha, I. W., & Budiasih, I. G. A. N. (2019). Effect of self-efficacy, competence and compensation in performance of financial manager on motivation as moderation. International Research Journal of Management, IT and Social Sciences, 6(3), 83-93. https://doi.org/10.21744/irjmis.v6n3.635
Raza, U., Kulkarni, P., & Sooriyabandara, M. (2017). Low power wide area networks: An overview. IEEE Communications Surveys & Tutorials, 19(2), 855-873.
Ruth, M. (2013). Integrating economics, ecology and thermodynamics (Vol. 3). Springer Science & Business Media.
Salisu, J. B., Chinyio, E., & Suresh, S. (2015). The impact of compensation on the job satisfaction of public sector construction workers of jigawa state of Nigeria. The Business & Management Review, 6(4), 282.
Saputra, L. A. A., Surati, -, & Saufi, A. (2019). Mediation role of job satisfaction towards effect of conflict roles on organizational commitment. International Journal of Social Sciences and Humanities, 3(2), 165-175. https://doi.org/10.29332/ijssh.v3n2.308
Sila, A. K. (2014). Relationship between training and performance: A case study of Kenya women finance trust eastern Nyanza region, Kenya. European Journal of Business and Social Sciences, 3(1), 95-117.
Verma, S., & Goyal, R. (2011). A Study of Training in Insurance and Their Impact on Employees Productivity. International Journal of Research in Economics and Social Sciences, 1(1), 31-45.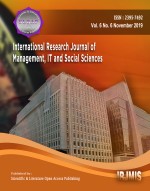 How to Cite
Diliantari, K. R. D., & Dewi, I. G. A. M. (2019). Effect of training and compensation of employee performance medicated by job satisfaction. International Research Journal of Management, IT and Social Sciences, 6(6), 95-103. https://doi.org/10.21744/irjmis.v6n6.768
Section
Research Articles
Articles published in the International Research Journal of Management, IT and Social sciences (IRJMIS) are available under Creative Commons Attribution Non-Commercial No Derivatives Licence (CC BY-NC-ND 4.0). Authors retain copyright in their work and grant IRJMIS right of first publication under CC BY-NC-ND 4.0. Users have the right to read, download, copy, distribute, print, search, or link to the full texts of articles in this journal, and to use them for any other lawful purpose.
Articles published in IRJMIS can be copied, communicated and shared in their published form for non-commercial purposes provided full attribution is given to the author and the journal. Authors are able to enter into separate, additional contractual arrangements for the non-exclusive distribution of the journal's published version of the work (e.g., post it to an institutional repository or publish it in a book), with an acknowledgment of its initial publication in this journal.
This copyright notice applies to articles published in IRJMIS volumes 7 onwards. Please read about the copyright notices for previous volumes under Journal History.