Multidimensional diagnosis of competitive anxiety in youth baseball team
Milan Ochoa Chang

Universidad de Oriente, Santiago de Cuba, Cuba

Ana Celia Matarán Torres

Universidad de Oriente, Santiago de Cuba, Cuba
Keywords:
baseball, competitive anxiety, diagnosis, multidimensional, psychological
Abstract
Santiago de Cuba It is one of the provinces with the best sports results in Cuban history, baseball is one of the leading disciplines in this regard, however, in recent years, such achievements have been affected. Multiple are the answers that technicians, researchers, and specialists have tried to offer these unfortunate events. Youth baseball has not been exempt from this problem and, in this sense, Sports Psychology has played an important role in the study and search for scientific alternatives that contribute to reversing these results. During the last 3 years, high manifestations of competitive anxiety have been observed in baseball players in this category, this fact motivates the present investigation, it aims to rigorously diagnose how this negative emotion has been presented in said population. To complete the objective, the 25 members of the Santiago youth team were selected as a sample, the study is descriptive, being able to record, analyze and describe the general and observable characteristics of anxiety in real moments of training sessions and competitions, it is supported by the qualitative-quantitative methodology using psychological techniques such as observation, interview, CSAI-2, attitude tests for competition and appreciation of time and pulsometer.
Downloads
Download data is not yet available.
References
Cisneros, M. (2016). Psychological intervention plan for anger control in baseball pitchers. Master thesis, University of Physical Culture and Sports Sciences Manuel Fajardo, Granma, Cuba.
Compta, R. & Naples, N. (2015). Active therapy in the emotional states of the baseball team category 13-14 years in Santiago de Cuba. EFDeportes.com, Digital Magazine. Buenos Aires - Year 20 - Nº 206 http://www.efdeportes.com/
García, F. (2001). Emotions as a result of training loads. http://www.efdeportes.com/ Digital Magazine - Buenos Aires 7(41).
García, L. (2019). The negative influence of parents in the development process for baseball learning arrangements
Jodra, P. (2002). Anxiety in sports. Arbitrum Retrieved from https://www.researchgate.net/publication/228904490
Milanés, Y. (2015). Generalities of the study of competitive anxiety. Olimpia Magazine, 13(38).
Oliva, A. & Ochoa, M. (2016). Training program with cognitive-behavioral techniques for the control of precompetitive anxiety. Tesina de Diplomado, Universidad de Oriente, Facultad de Cultura Física Manuel Fajardo, Santiago de Cuba, Cuba.
Ordeñez, V. M. (2003). La ansiedad precompetitiva como indicador de rendimiento en nadadores de siete a diez años de edad. Toma de la base de datos del Centro de Recursos de información para el deporte cubano.
Singh, A., & Parmar, D. S. (2015). A comparative study of competitive anxiety between basketball and volleyball players. International Research Journal of Management, IT and Social Sciences, 2(1), 1-4.
Sjaifullah, A. (2019). An analysis of EFL students' anxiety factors in speaking. International Research Journal of Engineering, IT & Scientific Research, 5(3), 43-48. https://doi.org/10.21744/irjeis.v5n3.655
Suárez, H. (2016). Estrategia de intervención psicológica para la concentración de la atención en lanzadores de béisbol social en Granma. Tesis de maestría, Universidad de Ciencias de Cultura Física y el Deporte Manuel Fajardo, Granma, Cuba.
Wanton-Prince, E., & Sánchez-López, J. N. (2013). Método para el desarrollo de la fuerza explosiva en lanzadores de béisbol. Arrancada, 13(24), 1-9.
Williams, S. (1991). Psicología aplicada al deporte. Madrid, Biblioteca Nueva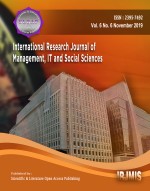 How to Cite
Chang, M. O., & Torres, A. C. M. (2019). Multidimensional diagnosis of competitive anxiety in youth baseball team. International Research Journal of Management, IT and Social Sciences, 6(6), 104-110. https://doi.org/10.21744/irjmis.v6n6.783
Copyright (c) 2019 International research journal of management, IT and social sciences
This work is licensed under a Creative Commons Attribution-ShareAlike 4.0 International License.
All articles in the IRJMIS is published under the terms of the Creative Commons Attribution-ShareAlike 4.0 International License (CC BY-SA) which allows authors and users to copy, distribute, transmit and adapt the article. The Creative Commons Attribution-ShareAlike 4.0 International License of an open-access article, as long as the author is properly attributed. Copyright on any research article published by SLOAP is retained by the author(s). Authors grant to the SLOAP right to publish the article, to be cited as its original publisher in case of reuse, and to distribute it in all forms and media. Copyright and source must be acknowledged and a link must be made to the article's DOI.