Selfie tourism promotion to support innovative tourism in the era of disruption
Putu Ratna Juwita Sari

Universitas Pendidikan Nasional, Denpasar, Indonesia

Ni Nyoman Sri Wisudawati

Universitas Pendidikan Nasional, Denpasar, Indonesia

Ni Made Dhian Rani Yulianti

Universitas Pendidikan Nasional, Denpasar, Indonesia
Keywords:
innovative tourism, selfie, promotion, tourism promotion, disruption
Abstract
In the current era of disruption, innovation and creativity are needed in all lines of business, including the Tourism sector. Wanagiri Village is one of the tourist destination areas which is located in Buleleng Regency is currently conducting promotions to attract tourists visiting this place. Having a strategic location and involving the community, the type of tourist attraction developed is a selfie tour by having lakes and mountains as background. Using SWOT analysis, it is expected to be able to find out which type of promotion is most appropriate to attract tourists. This study used a qualitative descriptive method, informants with purposive sampling, and triangulation of data aimed at obtaining data validity.
Downloads
Download data is not yet available.
References
Anom, I. P. (2010). Pariwisata Berkelanjutan dalam Pusaran Krisis Global. Denpasar Udayana.
Hidayatulloh, Yayat Nasrulloh. 2011. Strategi Pemasaran Objek Wisata Alam Talaga Remis di Taman Nasional Gunung Ciremai. Fakultas Kehutanan Institut Pertanian Bogor.
Ikhsan, S., Aid, A., & Pertanian, S. P. J. S. E. (2011). Analisis SWOT untuk merumuskan strategi pengembangan komoditas karet di Kabupaten Pulang Pisau, Kalimantan Tengah. Jurnal Agribisnis Pedesaan, 1(3), 166-177.
Martono, N. (2012). Sosiologi Perubahan Sosial: Perspektif Klasik, Modern, Posmodern, dan Poskolonial (Sampel halaman). RajaGrafindo Persada Jakarta.
Moscardo, G. (2003). Interpretation and sustainable tourism: functions, examples and principles.[Reprint of original article published in v. 9, no. 1, 1998: 2-13.]. Journal of tourism studies, 14(1), 112.
Nazir, M. (2014). Metode Penelitian Cet. 9. Penerbit Ghalia Indonesia. Bogor.
Putra, I. N. D. (Ed.). (2015). Pariwisata berbasis masyarakat model Bali. Buku Arti.
Putra, I. N. D., & Campbell, S. L. (Eds.). (2015). Recent Developments in Bali Tourism: Culture, Heritage, and Landscape in an Open Fortress. Program Studi Magister Kajian Pariwisata, Universitas Udayana.
Sumadi, K. (2016). Tourism development basis in traditional village of Kuta. International Journal of Linguistics, Literature and Culture, 2(3), 124-132
Suniastha Amerta, I. M. (2017). The role of tourism stakeholders at Jasri tourism village development, Karangasem regency. International Journal of Social Sciences and Humanities, 1(2), 20-28. https://doi.org/10.29332/ijssh.v1n2.32
Utama, I. G. B. R. (2017). Pemasaran Pariwisata. Penerbit Andi.
Wening, N., Al Hasny, M., & Fitryana, R. (2014). Strategi Pemasaran Untuk Meningkatkan Jumlah Kunjungan Pada Obyek Wisata Kebun Raya Dan Kebun Binatang (KRKB) Gembira Loka Di Kota Yogyakarta. Kajian Bisnis STIE Widya Wiwaha, 22(1), 1-10. https://doi.org/10.32477/jkb.v22i1.193
Widiastini, N. M. A. (2012). Strategi Pemasaran Pariwisata Di Kabupaten Buleleng, Bali. Jurnal Ilmu Sosial dan Humaniora, 1(1).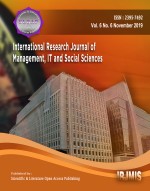 How to Cite
Sari, P. R. J., Wisudawati, N. N. S., & Yulianti, N. M. D. R. (2019). Selfie tourism promotion to support innovative tourism in the era of disruption. International Research Journal of Management, IT and Social Sciences, 6(6), 172-177. https://doi.org/10.21744/irjmis.v6n6.789
Copyright (c) 2019 International research journal of management, IT and social sciences
This work is licensed under a Creative Commons Attribution-ShareAlike 4.0 International License.
All articles in the IRJMIS is published under the terms of the Creative Commons Attribution-ShareAlike 4.0 International License (CC BY-SA) which allows authors and users to copy, distribute, transmit and adapt the article. The Creative Commons Attribution-ShareAlike 4.0 International License of an open-access article, as long as the author is properly attributed. Copyright on any research article published by SLOAP is retained by the author(s). Authors grant to the SLOAP right to publish the article, to be cited as its original publisher in case of reuse, and to distribute it in all forms and media. Copyright and source must be acknowledged and a link must be made to the article's DOI.